Welcome to the University of Washington-  Neurologic Physical Therapy Residency!
The University of Washington-EvergreenHealth Neurologic Physical Therapy Residency Program is accredited by the American Physical Therapy Association as a postprofessional residency program for physical therapists in neurologic physical therapy.  It is a 15-month full time residency program for licensed physical therapist who want to specialize in neurologic physical therapy.
The goals of the residency program are to:
Support UW Medicine's mission to improve the health of the public by educating residents to provide advanced clinical care in neurologic physical therapy.
Prepare residents to become educators in neurologic physical therapy for patients, physical therapy students, and colleagues, and the broader health care community and the public by providing hands-on teaching experiences in the clinic and in the classroom.
 Prepare residents to become consultants, advocates, and ambassadors of the physical therapy profession to patients, physical therapy students and colleagues, the broader health care community, and the public by providing structured mentoring and opportunities to engage in professional development and leadership.
Prepare residents to be advanced practitioners in neurologic physical therapy and be eligible to sit for the board certification neurologic clinical specialist exam.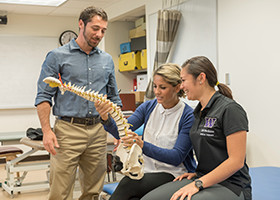 Residents complete their clinical experience at EvergreenHealth hospital in Kirkland Washington. It is an award-winning health system on the eastside, that is recognized for clinical excellence, and patient experience awards. It was listed as one of America's one hundred best hospitals in 2018. EvergreenHealth has been nationally recognized with Leapfrog with a hospital safety grade of an A and received a five-star top performer rating from CMS.
Program Details
The Neurologic Physical Therapy Residency program begins in mid-September of each year. Residents work a full-time schedule. You'll spend the first 12 months in the clinic, either seeing patients or receiving one-on-one mentoring from faculty. The remaining three months of your time is spent working as a teaching assistant in the division. You will be teaching in a variety of classes including the neurologic physical therapy classes to UW Doctor of Physical Therapy students, gaining valuable experience teaching at the doctoral level.
The resident is in a salaried position at the University of Washington and includes medical, dental, and retirement benefits, sick leave, twelve days of vacation, and state-observed holidays. Tuition is $4,000 for the year.